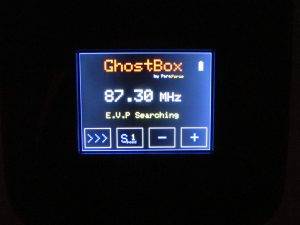 Ghost Augustine och Paranova har samarbetet under en längre tid då det handlar om paranormal utrustning. Nu har vi fått möjligheten att testa två nya apparater för kommande undersökningar. Den första är riktigt intressant och det är en Ghost Box som verkar vara helt ny på det paranormala fältet. Den använder sig av en display som man kan trycka på samt skannar FM/AM framåt och bakåt. Den har även tolv olika hastigheter som man kan välja från. Den andra apparaten heter ParaForce Spirit Vibes och reagerar på minsta lilla vibrationer där den lyser upp LED-lamporna samt ger ifrån sig ett ljud. Det blir oerhört intressant att testa dessa apparater och se vad vi lyckas dokumentera. Detta är en del i vår utveckling att testa/köpa ny seriös utrustning som följer vår röda tråd som vi ofta pratar om. Jag bifogar mer info och bilder nedanför. Gå gärna in på Ghost Augustines hemsida och se om det är något ni behöver för era undersökningar.
ParaForce GhostBox
The beautiful top quality ParaForce GhostBox is touch screen controlled and has 12 different scanning speeds to choose from. It can scan forward and reverse. Plug in your Voice Recorder directly into the PF GhostBox and record EVPs. The ParaForce GhostBox scans FM radio frequencies between 76 and 108 Mhz. You can remain on the frequency of choice for an unlimited duration. It has a built in Faraday bag to limit EVP interference. This product is launched in the USA on Friday Jan 26th 2018. This first batch ships out carefully bubble wrapped – but has no product packaging yet.
Technical Specs:
Touch Screen controlled
12 different scanning speeds
Scan Forward and Reverse
Built in Faraday Bag to reduce interference
1W internal speaker
Backlit 3.5mm jack socket for plugging in a Voice Recorder
Headphones not recommended due to potential hearing loss.
Power source: 4 AAA alkaline batteries (not included).
Battery level indicator shows battery levels.
Made in EU – Great workmanship and quality!ParaForce Spirit Vibes

The ParaForce Spirit Vibes is exclusively designed for paranormal investigations. It picks up vibrations and the slightest movement of the device will trigger the LED lights. The detection is done by 3 different colored LED lights and three axes. The Spirit Vibes also has buzzer that can be disengaged and two colored LED indicates whether the buzzer is on or off. 9V batteries (not included). Great workmanship – made in EU.